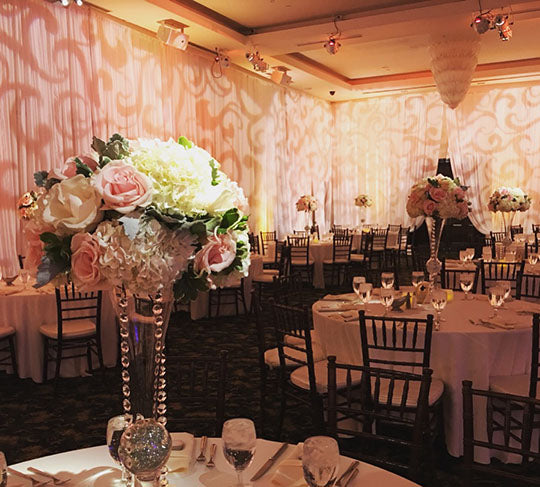 Dec 23 , 2021
The wedding lighting looks great, giving you more space, a special feeling is worth it! Let's the installation of LED lighting (Uplighting, gobo lighting and other LED decor) at your wedding celebration, you can easily Make a big impact on your wedding decor and Overall appearance of the space. Uplighting is not only affordable, it works great with your wedding cinematography and photographs! Lighting with a gobo  makes activities such as weddings distinctive fashion. Our lighting products are fully customizable to suit your Celebration and budget.
Marvel at your wedding guests with the lighting!
Wedding & Event uplighting Special Includes:
LED uplight fixtures( stylish lighting grabbing attention)
Your colors of choice (Over Millions of colors to choose from)
Intelligently programmed uplights (Allows lighting to fit mood or scene & sync with music)
On-site staff who controls and manages uplighting
Full setup & break down **No Hassle Guarantee**
Lighting consultation (30 days in advance of event)
Click here to reserve your wedding or event day today! For more information on our gobo lighting services click here. We provide the best price and service for you.
Instagobo lighting projectors for Wedding Lighting.
---
---