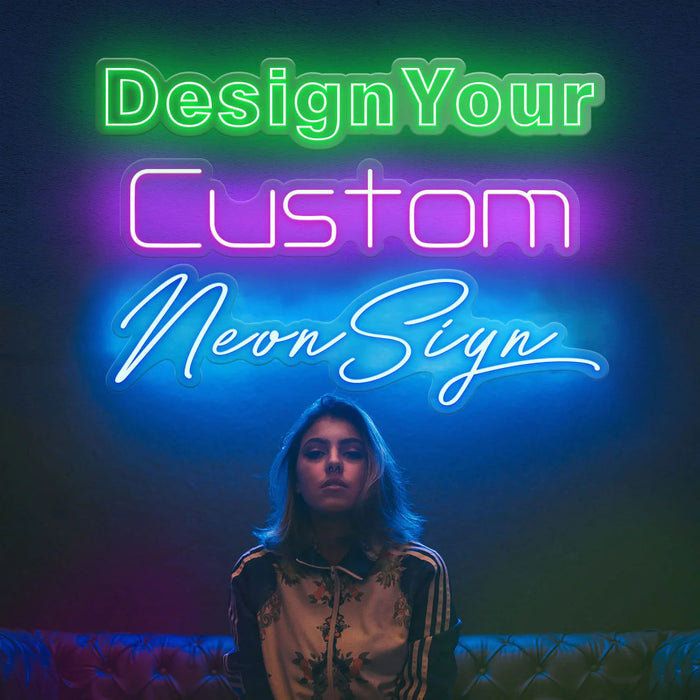 Customized Neon Lights (LED Neon Flex) with Clear Acrylic
Specifications:
Material: Acrylic Back Panel + LED Neon Flex Strips Lights
Power: 220V Plug - in - 12V Output/ USB charger
12inch/30cm and 20inch/50cm ,we use USB charger.(Because adater very big,the szie the same as the neon sign)

Color Options: Pink, Red, Orange, Yellow, Green, Blue, Ice Blue, Purple, Green, Light Pink, Cool White, Warm White, If make the RGB,Pls email us.

Image is just for representation purpose, actual color will vary and size will be as per the Acrylic Back Panel and choice of Font.
If you wish to make CUSTOM SIZE and FONT, kindly contact us by email or whatsapp
Customized Neon Lights take 7-14 days to make + transit time.
Any Art or Picture need to make in Neon? No problem, send the the image on WhatsApp and we will assist you further.
Note: NO COD Product
These are Custom NEON Lights are manufactured only after you order. We do not take COD Orders for this product. Once order is placed, One of our team member will contact you for further details.
DESIGN: This LED Neon sign is 3D art that brightens and transforms the space around it. Use it to enliven a living room, retro fit a kitchen, or make a stylish bar or iconic game room. Great to add personality to bedroom, home office, bathroom, window, desk, & balcony. Create a fun and lively ambiance to a small apartment or any room, wall, or shelf by using this bold sign that POPS. The cute and modern design is also an alternative solution for your children's bedroom that they will love
APPLICATION: Perfect for home décor, wall art, store front design & party decorations. Add something special to the atmosphere for events such as birthday, Christmas, Valentine's day, proposals, dinner parties, performances, weddings or any party. Just looking at the sign's bright lights can inspire and uplift your mood. **Can be combined with the other signs to add effect*
GIFTABLE: This is the perfect gift item for family, friends, coworkers, colleagues, girls, teenagers, and will make a unique house warming gift or birthday present
Package Contains: 1 x Neon Sign, Plug - in Adapter
Projection Range For Reference
MODEL COMPARISON
SPECIFICATION 
Model
Beam
(Project diameter of image = Projection distance * n)
Default
Mult.
ST-15(15W)
0.25
none
ST-40(40W)
0.25
DS-20(20W)
0.35
Indoor: 0.2, 1.1-1.4(zoom)
Outdoor: 0.2, 1.1
DS-40(40W)
0.35
DS-80(80W)
0.35
DS-150(150W)
0.35
DS-200(200W)
0.35
LE-65(65W)
0.2
0.1, 0.3, 0.4, 0.8
(LE-H80 not support 0.8)
LE-80(80W)
0.2
LE-H80(80W)
0.2
LE-120(120W)
0.2
LE-200(200W)
0.2
PROJECTION RANGE
Model
Bright
Dim
Dark
ST-15(15W)
10ft
15ft
20ft
ST-40(40W)
20ft
40ft
60ft
DS-20(20W)
10ft
17ft
23ft
DS-40(40W)
20ft
33ft
43ft
DS-80(80W)
27ft
43ft
59ft
DS-150(150W)
50ft
82ft
115ft
DS-200(200W)
66ft
105ft
148ft
LE-30(30W)
16ft
20ft
29ft
LE-65(65W)
45ft
65ft
130ft
LE-80(80W)
65ft
130ft
260ft
LE-H80(80W)
65ft
130ft
260ft
LE-120(120W)
130ft
260ft
390ft
LE-200(200W)
260ft
390ft
450ft
FREQUENTLY ASKED QUESTIONS (FAQs) 
How to choose a suitable gobo projector?
For each model, we have the best distance for your reference. You can choose the power according to your projecting distance and brightness of the environment. Then you can decide the features, such as static or rotating indoor or outdoor, etc.
How to Order your Custom Gobo from instagobo.com
Step 1: Please gather the following information prior to proceed your order:
Supply the original artwork or HD picture to us. 

The best file format for gobo production is vector format (such as EPS, AI). High-resolution images ( photos more than 2000 pixels are fine for the final design) just do fine. 

(Email: support@instagobo.com)

Our designer edits the raw file to be finished available artwork.

Send to our gobo technology dept. to produce the gobo.

Gobo type: Glass
Step 2: Place the order online directly, no need to create an account to login.
Step 3: We will process your order and ship the custom gobo to you after the gobo design confirmed.
WHY the glass gobo?
 A "Gobo" is a stencil or template placed inside or in front of a light source to control the shape of the emitted light. The term "gobo" is an acronym that stands for "GOes Before Optics", 

describing the location where it needs to be positioned in the light path of a lighting fixture. Gobos can be used for multiple projects; for example they can project breakup patterns to create texture on walls or even project your company logo.



There are two types of gobos: steel and glass.

Here are numerous benefits with glass gobos, one having a long life span. One more benefit of glass is that complicated images can be generated with very excellent quality. One more advantage is glass will certainly not distort or melt when used continuously.
Notice: We recommend all gobos with image size outer diameter 37.5mm to fit in glass gobo.
How do you determine the number of colors for glass gobos? 
One - Color: Color + White OR Black
Two - Colors: Color + Color + White or Black background
Three Colors: Color + Color + Color + Black OR Black
Full Colors:  Four Colors or more
How long did it take to get glass gobos?
The glass gobo usually takes 3-4 working days 

to manufacture

and 3~5 days for delivery. Instagobo.com only use courier services (such as DHL, FedEx, UPS) to arrange the shipment.
Free shipping for products below 6kg. Over 6kg requires additional shipping charges.